In 2018, CREA Mont-Blanc launched a series of scientific seminars open to the public. Once a month (typically on a Tuesday), you are invited to the Mont-Blanc Observatory, home of CREA Mont-Blanc, to meet researchers studying issues that affect the mountains. As the name "Science Sandwich" would suggest, the conference series occurs midday, from 12:30 to 1:30, and you are encouraged to bring your lunch with you. Seminars occur in both French and English depending on the topic and the speaker.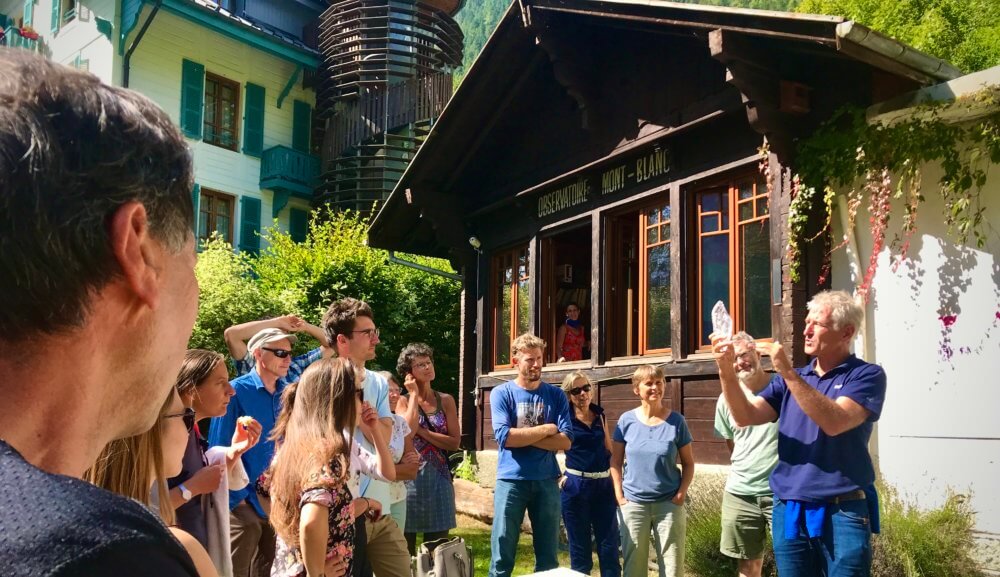 The 2020 Program
Science Sandwich # 3 – Tuesday, September 15th (in French)
"Living time: taking inspiration from nature" (in French), with Irene Alvarez, Program Director at CREA Mont-Blanc 
Adapt, change, evolve…facts of life in the natural world, and especially in mountain environments. What lessons can we take from the living world to inspire our own transition toward a more sustainable society?
Citizens, entrepreneurs, decision-makers and elected officials, we invite you to come discover the principals of ecosystem function and resiliency, which have been at work for hundreds of millions of years. We'll take this time for an informal discussion (no prerequisite knowledge required!) of how we can learn from nature to make our own, personal and collective, transition possible.
This Science Sandwich will take place as part of the Temps des Possibles festival. For more information and to find other events happening in the Chamonix Valley, visit their website!
Science Sandwich # 5 – Tuesday, October 13th (in French)
"From impacts to adaptation: understanding climate change and the Alp's iconic glacier tourism sites" With Emmanuel Salim, PhD candidate at EDYTEM Laboratory.
The Aiguille du Midi, Montenvers Mer de Glace and the Rhône Glacier are among the Alp's most visited glacier tourism sites. However, ongoing climate change is resulting in glaciological and geomorphological changes that are calling into question the future of these famed sites. Faced with these challenges, the adaptation strategies developed by tourism stakeholders will be central in guaranteeing their resilience and long-term viability.
Tuesday, March 24th (in French). POSTPONED to a later date.
"What can we learn about biology from mountain-dwelling plants?" with Dr. Sébastien Lavergne, Laboratoire d'Ecologie Alpine, CNRS – Université Grenoble Alpes
Contrary to what many people imagine, the high mountains are not devoid of living things. Instead, they are home to discreet and largely unknown ecosystems full of plants, arthopods, arachnids and micro-organisms. Join us to learn how studies of these high mountain ecosystems, and specifically their plants, can provide new and unexpected naturalistic discoveries, and shed new light on some of biology's biggest questions.
Tuesday, April 14th (in French). POSTPONED to a later date
"Why understanding human relationships is key for coexisting with large carnivores." with Lou Lecuyer, Institut national de recherche pour l'agriculture, l'alimentation et l'environnement (INRAE)
Tensions can often arise around the subject of protection of large carnivores (which are known to occasionally attack livestock). Managing conflicts between different interest groups is key for the conservation of these often threatened species. This Science Sandwich will draw parallels between a case study managing jaguars in Mexico and the protection of large carnivores in France, challenging us to go beyond technical and biological questions, and dive into human relationships and the tricky subjects of justice, trust and tolerance.
Infos pratiques
You'll have lots of opportunities to meet the CREA Mont-Blanc team in 2020! Pack your sandwich and hike over to the Mont Blanc Observatory to join us as we learn more about what's going on in the mountains around us. Seminars will be led both by researchers from CREA Mont-Blanc as well as visiting academics eager to share their passion for flora, fauna and mountain environments.
If you are a researcher visiting Chamonix and interested in meeting the CREA Mont-Blanc team and/or sharing your work at a Science Sandwich conference, please don't hesitate to reach out to us!
Science Sandwich Chamonix
At the Mont-Blanc Observatory
67 lacets du belvédère
74400 Chamonix-Mont-Blanc
From 12:30 to 1:30 pm
Bring your own bag lunch.
FREE – Space is limited
Exchanges will occur in French or in English, depending on the presenter and the topic
Previous 2020 Editions:
Science Sandwich #2:
Science Sandwich # 2 : "Air quality at the foot of Mont-Blanc: separating the facts from the fiction", with Anne Lassman-Trappier, President Inspire, and air quality advisor for the France Nature Environnement national federation.
Science Sandwich #1 : "The impacts of climate change on alpinism in the Mont-Blanc range: Evolution of high mountain routes, impacts on climbers and new tools to help decision-making" with Jacques Mourey, postdoctoral researcher at EDYTEM Laboratory
Science Sandwich 2019 Highlights

"Are adaptation and migration really the only strategies that alpine plants can use if they want to survive climate change on our mountaintops?" with Christophe Randin

"Disturbances of emblematic wildlife by outdoor recreationists" with Léna Gruas

"Difficulties of weather forecasting in mountainous regions" with Gilles Brunot

"Indicator Lakes: scientists studying high-elevation alpine lakes" with Jean-Baptiste Bosson

"How water markets can save water" with Mark Squillace

"Facing the Future: Hope, Panic, and Action in a Warming World" with Lauren E. Oakes

"Will our glaciers make a comeback in the foreseeable future, or should we be getting out our swimsuits instead ?" with Luc Moreau

"Discovering the world beneath our feet" – avec Idaline Laigle

"Studying phenology at CREA Mont-Blanc: spicy new results and the future of our research" with Marjorie Bison

"Adapt Mont-Blanc: How will climate change impact the Espace Mont-Blanc in the years to come?" with Brad Carlson