CREA Mont-Blanc has launched a series of scientific seminars open to the public. One Tuesday per month, you are invited to the Mont Blanc Observatory, home of CREA Mont-Blanc, to meet researchers studying issues that affect the mountains. As the name "Science Sandwich" would suggest, the conference series occurs midday, from 12:30 to 1:30, and you are encouraged to bring your lunch with you. Seminars occur in both French and English depending on the topic and the speaker.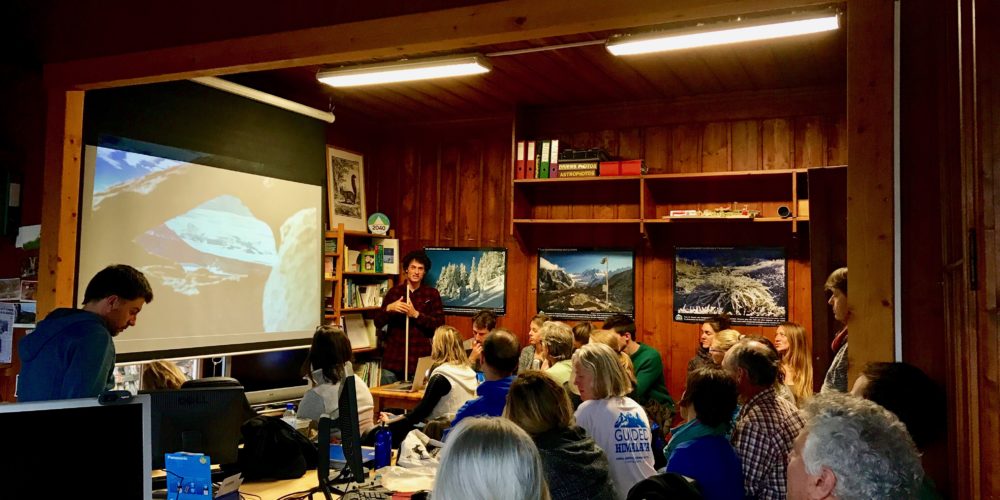 November 2018 Science sandwich: « Antarctic science through the eyes of a mountain guide» – Danny Uhlmann, mountain guide and photographer presents his experiences on scientific expeditions in Antarctica © CREA Mont-Blanc
The 2019 Program:
Science Sandwich #10 – Tuesday, December 10th (in English)
"Adapt Mont-Blanc: How will climate change impact the Espace Mont-Blanc in the years to come?"
With Brad Carlson, researcher at CREA Mont-Blanc and UIAGM Mountain Guide.
The Alps, and more specifically, the Espace Mont-Blanc, are home to densely-populated valleys and exceptional relief of over 4,000 meters from valley floor to summit. But this unique territory is warming twice as quickly as the rest of the Northern Hemisphere. Today, the question facing the inhabitants, elected officials, economic actors and other stakeholders in the valleys around Mont-Blanc as well as the elected officials is "how will climate change impact natural environments and human activity in coming years and decades?"
As part of the EU Alcotra project Adapt Mont-Blanc, and in collaboration with scientists and decision-makers in all three of Mont-Blanc's border nations, CREA Mont-Blanc is working to provide some responses to these complex questions that will help communities prepare for the future. This Science Sandwich will provide an overview of observed and anticipated changes in climate with a special look at the projected evolution of biodiversity, glaciers, permafrost, tourism, agriculture and water resources.
Practical Information:
You'll have lots of opportunities to meet the CREA Mont-Blanc team in 2019! Pack your sandwich and hike over to the Mont Blanc Observatory to join us as we learn more about what's going on in the mountains around us. Seminars will be led both by researchers from CREA Mont-Blanc as well as visiting academics eager to share their passion for flora, fauna and mountain environments.
If you are a researcher visiting Chamonix and interested in meeting the CREA Mont-Blanc team and/or sharing your work at a Science Sandwich conference, please don't hesitate to reach out to us!
Science Sandwich Chamonix

At the Mont Blanc Observatory – 67 lacets du belvédère – 74400 Chamonix-Mont-Blanc
from 12:30-1:30pm
Bring your own bag lunch
FREE – space limited
Exchanges will occur in French or in English, depending on the presenter and the topic.
Previous Editions :
Science Sandwich #8 – Tuesday, October 22nd (in French)
"Discovering the world beneath our feet"
With Idaline Laigle, research engineer at CREA Mont-Blanc; completed a PhD on soil communities and their interactions with the environment. During this Science Sandwich, Idaline will help spark your curiosity about the little-known living world right under your feet. Did you know that in a temperate forest, there are an estimate one thousand species of invertebrates living in just one square meter of soil? And 5,000 species of bacteria and fungus? But how do scientists manage to study such tiny and diverse organisms? And what makes them an important part of sustaining life on Earth? What threats are these misunderstood environments facing? And as a bonus, you'll learn how good soil management can help you have a more productive and successful vegetable garden!
Science Sandwich #7 – Tuesday, September 17th (in French)
"Will our glaciers make a comeback in the foreseeable future, or should we be getting out our swimsuits instead ?"
With Luc Moreau, glaciologist, Chamonix Glaciology Association, in the footsteps of Joseph Vallot
Science Sandwich #6 – Thursday, June 27th (in English)
"Facing the Future: Hope, Panic, and Action in a Warming World" Lauren E. Oakes, PhD , Conservation Scientist and Adaptation Specialist, Wildlife Conservation Society, Adjunct Professor, Department of Earth System Science, Stanford University
Listen to a recording of her inspiring talk here: Facing the future
Science Sandwich #5 – Tuesday, May 28th (in English)
"How water markets can save water" – Mark Squillace, professor of natural resources law, University of Colorado Law
While a group of students visiting from the University of Colorado, Boulder's Masters of the Environment and Law programs, Professor Squillace presented on possibilities for using recognition of water rights and the water market to incentivize water conservation.
Science sandwich #4 – Tuesday, April 30th (in French)
"Indicator Lakes: scientists studying high-elevation alpine lakes" – Jean-Baptiste Bosson, coordinator of the Lacs Sentinelles (indicator lakes) network and manager of scientific projects for Asters – Conservatoire d'espaces naturels de Haute-Savoie.
Science sandwich #3 – Tuesday, March 12th (in French)
"Difficulties of weather forecasting in mountainous regions" – Gilles Brunot, Météo-France Chamonix.
Read the blog article about the presentation: Weather forecasting in mountainous regions
Science sandwich #2 – Tuesday, February 12th (in French)
"Disturbances of emblematic wildlife by outdoor recreationists" – Léna Gruas, PhD student in sports sociology at Edytem.
Read the blog article about the presentation: The relationship between mountain sports and emblematic wildlife
Science sandwich #1 – Tuesday, January 15th (in French)
"Are adaptation and migration really the only strategies that alpine plants can use if they want to survive climate change on our mountaintops?" – Christophe Randin, Professor at the Université de Lausanne, visiting researcher at the Institut fédéral de recherches sur la forêt, la neige et le paysage WSL (Switzerland) et curator at the Cantonal Museum and Botanical Garden of Lausanne (Switzerland)
Science Sandwich #9 – Tuesday, November 19th (in French)
"Studying phenology at CREA Mont-Blanc: spicy new results and the future of our research"
Ecologist Marjorie Bison will provide an overview of the phenological studies carried out by CREA Mont-Blanc and then open the floor to a discussion about possible directions our research could take in coming years.