Why bring American students to Chamonix to study climate change? Justine Sulia, a student from the University of Wyoming's Haub School shares her reflections on her experience this summer during CREA Mont-Blanc's inaugural "Climate Science in Chamonix" program.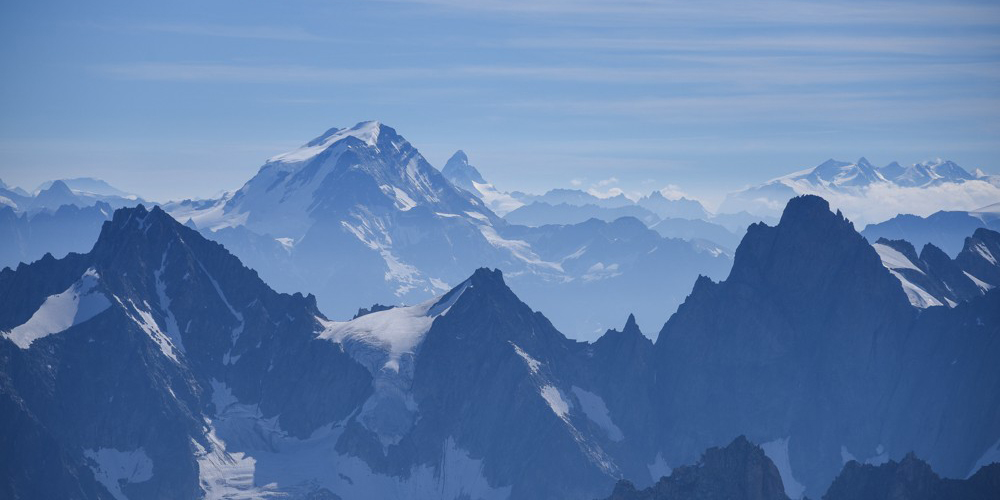 The Mont-Blanc massif from the Aiguille du Midi © Justine Sulia
From 17 to 31 July, along with eleven of my fellow classmates from the University of Wyoming's Haub School of Environment and Natural Resources, I had the opportunity to experience an unforgettable study abroad experience in Chamonix, France.
We participated in a course called Alpine Climate and Culture, in partnership with the CREA Mont-Blanc's Climate Science in Chamonix program, during which we studied the relationship between alpine culture and climate in mountainous environments. For two weeks, we conducted scientific protocols related to biodiversity and climate science in the high alpine with researchers from the CREA Mont-Blanc.
Moreover, we thoughtfully considered the culture of the region through a study of local and historic literary and artistic work as well as scientific publications. It was through these scientific protocols and literary explorations that we made a concrete connection between the culture of the Chamonix valley and climate science in the French Alps.
Our group was a thoughtful mix of aspiring scientists, land-use planners, journalists, literary writers, and others who have a great appreciation for the outdoor environment and everything it has to offer—from discovery to creativity to physical challenge. And although our interests were in drastically different fields, they would ultimately connect in this high alpine environment.
View from the Refuge de Loriaz © Justine Sulia
No better outing showcased these relationships than did our three-day trip to the Refuge de Loriaz. The Refuge de Loriaz served as the ideal starting point for our introduction to climate and culture in the French Alps. The hike up to the hut on that first day was serene, calm, and inviting. It was the perfect way to wind down after fifteen hours of travel and a busy two days spent immersing ourselves in the culture of Genève. At the hut we were welcomed into a comforting atmosphere, and enriched by delicious food, warm beds, and hospitable hosts.
It is here in the area surrounding Loriaz that we conducted the first of many scientific protocols led by the CREA Mont-Blanc research team. At first, the list of protocols seemed daunting. The CREA team is ambitious, and busy, and there was a lot to accomplish in a very short amount of time.
However, as we delved into these projects, our appreciation for the scientific research that was being conducted in this region and by the CREA Mont-Blanc just grew. We studied the phenological timeline of the common frog, Rana temporaria; we examined the local flora of the environment through satellite imagery, and we collected soil samples for a collaborating scientist's analysis. Our group was introduced to a variety of exciting field projects. We left itching for more.
The most compelling part about our short visit to the Refuge de Loriaz—and in turn our entire stay in the Chamonix valley—was witnessing the thoughtfulness and that drives everything being accomplished at CREA Mont-Blanc. So many different scientists in different fields of expertise are working toward a common goal: trying to understand the influence of a changing climate on the landscape. And most powerfully, they are inviting the public and visiting American students like us to join them.
In mountainous areas such as the Mont-Blanc region, the effects of climate change are intensified. These significantly impact the biodiversity of the surrounding environment. For those of us participating in this field course, it was an extremely valuable experience to be a part of the research conducted at the CREA Mont-Blanc. What we have learned from will serve as an important driver and source of motivation as we work towards our degrees in our respective fields. And maybe most importantly, it will provide us with the ambition to make a difference in both the scientific and literary worlds.
To learn more about our study abroad opportunities, check out the Climate Science in Chamonix page on our website!