This Thursday morning, the CREA Mont-Blanc team welcomed the first group of American university students participating in the Climate Science in Chamonix program.  Twelve students from the University of Wyoming's Haub School of Environment and Natural Resources will be spending 10 days working with our researchers to collect scientific data and help advance our understanding of the effects of climate change on alpine ecosystems.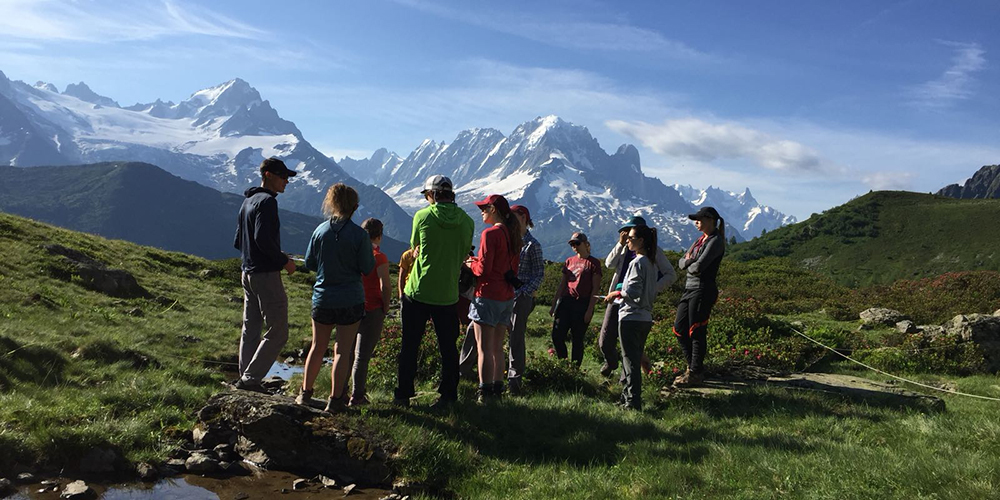 This Thursday morning at the Mont-Blanc Observatory, it's 10am and the summer sun is already beating down on the town of Chamonix when the Haub School's group of students arrive at from Geneva.  The twelve undergrad and graduate students quickly unload their bags and get ready to meet the CREA Mont-Blanc team.  For two weeks, they'll be participating in the global learning class "Alpine Climate and Culture" and earning a credit toward their degree.
A multidisciplinary trip to hone critical thinking skills
Thanks to a variety of different speakers, students will be working on themes related to the evolution of mountain landscapes, links between alpine culture and science, local history, alpinism, tourism, and land management policy.  In the field and side by side with CREA Mont-Blanc researchers, they'll also dive into a variety of subjects related to biodiversity and climate change.  At Loriaz, they'll discover CREA Mont-Blanc's long-term phenological monitoring of flora and fauna, and then they'll head to the Couvercle, where they'll have a unique high mountain experience and learn about the incredible ways that species adapt to life at high elevations.
Their professor, Courtney Carlson, who teaches Environmental Studies, joined 8 other American professors on last summer's  "Fam Trip"—a familiarization visit organized by CREA Mont-Blanc and funded by the European Union with the goal of developing new scientific educational opportunities in the Mont-Blanc region.
Courtney's trip is the first of four trips led by enthusiastic professors between now and spring 2019.  CREA Mont-Blanc collaborates closely with the professors to determine which scientific pedagogical units that CREA Mont-Blanc can lead correspond best with the needs of the professors and students.
Become a partner of Climate Science in Chamonix!
CREA Mont-Blanc hopes to put in place several more multidisciplinary collaborations with universities.  From our English language website, professors in any discipline can access our pedagogical unit and field site catalogs where they can explore our work and areas of expertise and select activities and protocols from a "menu" in order to construct a course that corresponds with their needs. CREA Mont-Blanc can offer students the opportunity to get a global vision or examine specific elements of the environment and society, at the scale of the Mont-Blanc region.
We are actively looking for new universities to partner with and donors who would like to support the trips and allow access for lower-income students.  Please contact us if you are interested!
Science Sandwich:  a chance to meet students and professors
Courtney Carlson will be participating in one of our monthly Science Sandwich events this Monday July 19th at the Mont-Blanc Observatory.   Her talk will invite participants to discuss man's relationship with nature, and more specifically the representation of the female form in outdoor media.
Written by Charlotte Mader
---
To learn more: 
What is Climate Science in Chamonix ?
Practical information and the 2018 Science Sandwich program