In 2018, CREA Mont-Blanc launched a series of scientific seminars open to the public. Once a month (typically on a Tuesday), you are invited to the Mont-Blanc Observatory, home of CREA Mont-Blanc, to meet researchers studying issues that affect the mountains. As the name "Science Sandwich" would suggest, the conference series occurs midday, from 12:30 to 1:30, and you are encouraged to bring your lunch with you. Seminars occur in both French and English depending on the topic and the speaker.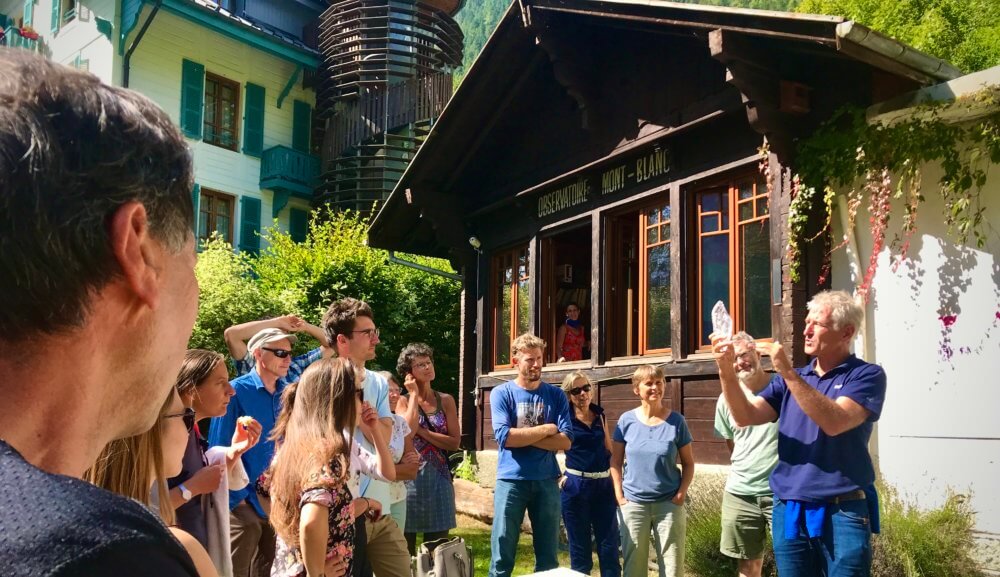 The 2020 Program
Science Sandwich # 1 – Thursday, January 30th (conference in French)
« The impacts of climate change on alpinism in the Mont-Blanc range: Evolution of high mountain routes, impacts on climbers and new tools to help decision-making" with Jacques Mourey, postdoctoral researcher at EDYTEM Laboratory
If you look around when you're out hiking or alpine climbing, it's hard not to notice the recent, but often intense, changes in the landscape that are occurring as a result of climate change.  This changes and upheavals provide the context for alpinism today, which is seeing significant changes to climbing routes and conditions.  The classic summer alpinism window is becoming less and less reliable.  Summer routes are becoming increasingly dangerous and technical and now, favorable conditions are often found more often in spring and fall.  This new reality is forcing alpinists to adapt their practices and challenging mountain professionals like guides and hut caretakers to do the same.  The goal of this conference is not to cause additional stress for mountain-lovers, but rather to give food for thought and propose new decision-making tools for preventing risk and understanding the processes underlying these changes. 
Conference in French.
Science Sandwich # 2 – Tuesday, February 18 (in French)
On air quality in the region, with Anne Lassman-Trappier, President of France Nature Environnement Haute-Savoie and the non-profit, Inspire.
Science Sandwich # 3 – Tuesday, March 24th (in French)
"What can we learn about biology from mountain-dwelling plants?" with Dr. Sébastien Lavergne, Laboratoire d'Ecologie Alpine, CNRS – Université Grenoble Alpes
Contrary to what many people imagine, the high mountains are not devoid of living things. Instead, they are home to discreet and largely unknown ecosystems full of plants, arthopods, arachnids and micro-organisms. Join us to learn how studies of these high mountain ecosystems, and specifically their plants, can provide new and unexpected naturalistic discoveries, and shed new light on some of biology's biggest questions.
Infos pratiques
You'll have lots of opportunities to meet the CREA Mont-Blanc team in 2020! Pack your sandwich and hike over to the Mont Blanc Observatory to join us as we learn more about what's going on in the mountains around us. Seminars will be led both by researchers from CREA Mont-Blanc as well as visiting academics eager to share their passion for flora, fauna and mountain environments.
If you are a researcher visiting Chamonix and interested in meeting the CREA Mont-Blanc team and/or sharing your work at a Science Sandwich conference, please don't hesitate to reach out to us!
Science Sandwich Chamonix
At the Mont-Blanc Observatory
67 lacets du belvédère
74400 Chamonix-Mont-Blanc
From 12:30 to 1:30 pm
Bring your own bag lunch.
FREE – Space is limited
Exchanges will occur in French or in English, depending on the presenter and the topic
Rappel des éditions 2019 :

"Are adaptation and migration really the only strategies that alpine plants can use if they want to survive climate change on our mountaintops?" with Christophe Randin

"Disturbances of emblematic wildlife by outdoor recreationists" with Léna Gruas

"Difficulties of weather forecasting in mountainous regions" with Gilles Brunot

"Indicator Lakes: scientists studying high-elevation alpine lakes" with Jean-Baptiste Bosson

"How water markets can save water" with Mark Squillace

"Facing the Future: Hope, Panic, and Action in a Warming World" with Lauren E. Oakes

"Will our glaciers make a comeback in the foreseeable future, or should we be getting out our swimsuits instead ?" with Luc Moreau

"Discovering the world beneath our feet" – avec Idaline Laigle

"Studying phenology at CREA Mont-Blanc: spicy new results and the future of our research" with Marjorie Bison

"Adapt Mont-Blanc: How will climate change impact the Espace Mont-Blanc in the years to come?" with Brad Carlson
Suivez-nous sur les réseaux :